PRAKIRTI- 21: Nature at its best on Canvas
PRAKIRTI- 21, a Duo-Art Show by nature lover eminent Artists Couple, Prashant K. Sarkar and Kirti B. Sarkar, was held from 7th to 13th November at PKK Art Gallery and organized by Pracheen Kala Kendra Complex, Sector -35, Chandigarh in association with Kalakriti Foundation, a dedicated Art & Cultural organization founded by the duo couple in 1999 and based in Delhi. Both alumni of the College of Art, New Delhi, the artist's duo are painting one theme, that is nature but have a different language and technique of their own to depict the feeling, passion and love for nature through their different subtle colours palette, forms and textures.
Kirti has a bright vibrant palette with colours like neons and direct colours and also minute detailing derived from folk art, Prashant has dreamy pastels as his favourite colours in his palette and a typical style of creating textures. Nature plays as "The Muse" for both of them. Besides being a painter, Prashant K. Sarkar is a sculptor, designer and plays the tabla and various other rhythmic instruments.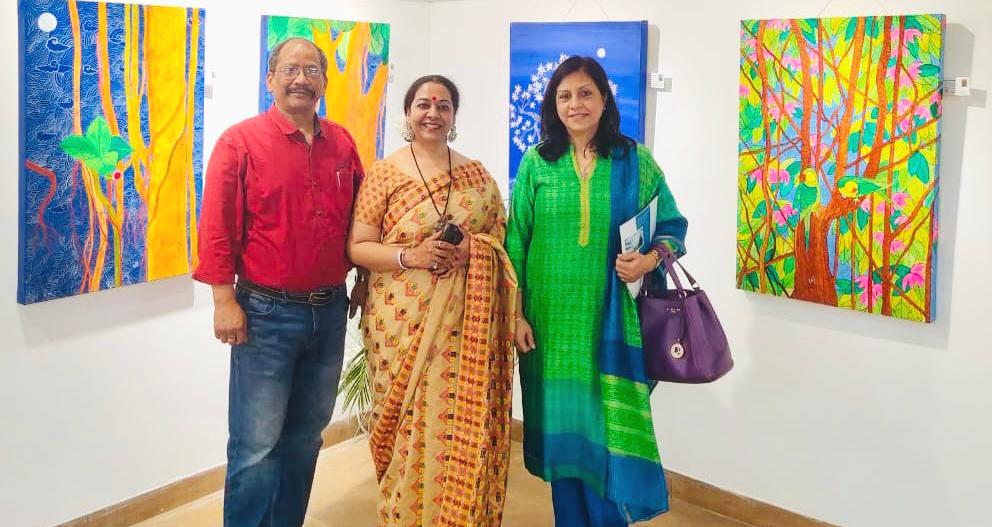 Through this extraordinary collaborative art platform with Kalakriti Foundation, Delhi, Pracheen Kala Kendra, has endeavoured to support these artists by creating opportunities for them to showcase their artworks and various creations in both fields of Visual and Performing Arts. Mr Sajal Koser, Secretary, Pracheen Kala Kendra informed the team of The Voice of Chandigarh that the Kendra also endeavours to create awareness & help the art collectors to acquire art at early valuations as well the budding artists to flourish.
Prakirti-2021 was an initiative of Mr. Ashootosh Mahajan Hon. Director Project Planning & Development and Executive Governing Board Member of Pracheen Kala Kendra.
By Seema Pahwa Handa, Advocate, Ex. Law Officer, Chandigarh Administration.